At Howland Capital, we believe in the significance of community engagement.
True to this ethos, more than two-thirds of our team recently dedicated a morning to volunteering at the national organization Cradles to Crayons. The mission that drives Cradles to Crayons is simple and profound: to end Clothing Insecurity. This issue, characterized by a lack of access to affordable, appropriate clothing, affects an astounding 20 million children across the U.S., and Boston is no exception.
Clothing not only serves the functional purpose of protecting us from the elements but also plays an integral role in shaping one's self-esteem, dignity, and confidence, especially for growing children. Recognizing the impact of this, our team was eager to contribute hands-on at the Giving Factory, the heart of Cradles to Crayons.
The energy in the Giving Factory was palpable. Every bin sorted and every item categorized was done with enthusiasm and a sense of purpose. It was not just about the physical act of sorting but the ripple effect each of our actions would create on the broader community. The morning was not only an opportunity to give back but also a testament to the power of teamwork. The shared experience further strengthened our bond as team members, reaffirming our commitment to the communities we serve.
Each organization was assigned a certain area throughout the Giving Factory. HCM was assigned with sorting through the numerous bins of generously donated items. As we categorized and organized, our collective efforts ensured that these donations would soon find their way into the hands and onto the backs of children in dire need. In less than two hours, we proudly processed 13 bins, each representing countless lives positively impacted.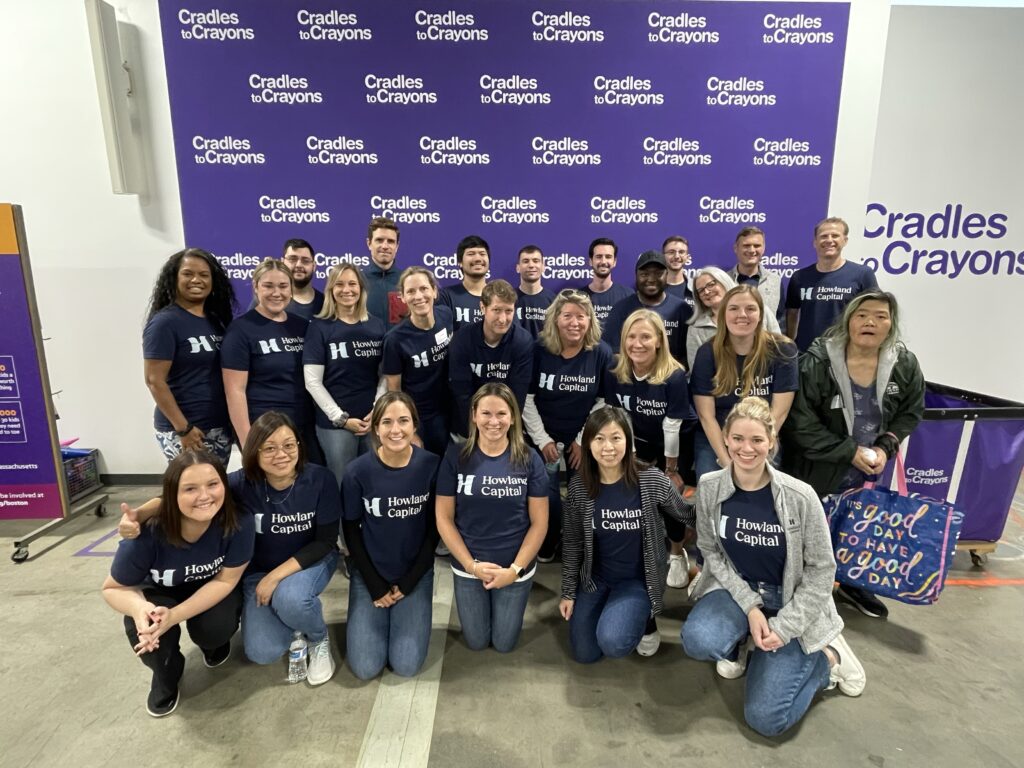 There was a unanimous sentiment as we wrapped up: our collaboration with Cradles to Crayons is just the beginning. At Howland Capital, we steadfastly commit to enriching our community. We'll continue to seek out and participate in opportunities that allow us to give back while strengthening the ties that bind us to our community and one another.
For those unfamiliar with the work of Cradles to Crayons, we wholeheartedly encourage exploring their mission and considering how you, too, can contribute. Small actions can create lasting impact, and together, we can work towards a future where no child is deprived of the fundamental right to appropriate clothing.